So this has been a hot topic for a bit now, but especially as halloween draws closer and we as parents worry about what our children are ingesting. there's been a new fear added this year to check for, melamine. 

I just wanted to share some info to help out with what's safe and what isn't and what the heck is going on.
The Department of Health (DOH) had already cleared a total of 49 dairy products (as of this posting).
These are the milk and chocolate brands that are free of melamine according to the DoH:
Anchor Lite Milk,
Anlene High Calcium Low Fat Milk,
Bear Brand Instant,
Chichok Milk Chocolate,
Farmland Skim Milk,
Jinwei Drinks,
Jolly Cow Pure Fresh Milk,
Kiddie Soya,
Milk Egg Delight,
Lactogen 1 DHA Infant Formula,
M&M Peanut Chocolate Candies,
Milk boy,
Nestogen 2 DHA Follow-up Formula,
Nestogen 3 DHA Follow-Up Formula,
Nido 3+ Prebio with DHA,
Nido Full Cream Milk Powder,
Nido Junior,
No- Sugar Chocolate of Isomaltooligosaccharide,
Nutri-Express Milk Drink,
PURA UHT Fresh Milk,
Snickers Fresh Roasted in Caramel & Soft Nougatin Thick Milk Chocolate,
Vitasoy Soya Bean Milk,
Wahaha Orange,
Want-Want Milk Drink (Red Can),
Windmil Skim Milk Powder,
Yinlu Milk Peanut,
Yogee,
Yoghurt Flavor Milk Drink
Anmum Materna Milk Powder Chocolate Flavor (400g)
Bear Brand Choco (300g)
Bear Brand Sterilized Milk (200ml)
Cadbury Choclairs
Carnation Calcium Plus Non-fat Milk Powder
Klim Instant Full Cream Milk Powder
Milk Chocolate Bar (40g)
Monmilk Breakfast Milk Walnut Milk Beverage
Monmilk Hi-calcium Low fat milk (1L)
Monmilk Deluxe Pure Milk
Nestle Chocolate Flavor Ice cream
Nestle Dairy Farm Pure Milk
Nestle Fresh Milk (1L)
Nestle Kitkat
Nestle Milk chocolate (40g)
Nestle Pops Ice cream
Nestle Vanilla Flavor Ice cream
Nestogen 1 DHA
Nesvita Cereal Milk Drink
Blue Tree Express Milk Drink or Green Apple Flavor (500ml)
Prime Roast Instant Nutritious Cereal (28g)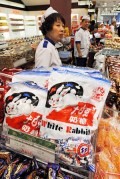 Before you check out the following items, please click here first to grab the Sciencebase newsfeed. I'll be updating the melamine news over the next few days, and the RSS newsfeed system allows you to keep up to date with the Sciencebase site without having to check back by adding our headlines to your Google account, My Yahoo, Bloglines or your active bookmarks in your browser.
As the melamine in milk products from China problem continues to grow apace, Sciencebase presents a succinct list of melamine contaminated food list culled from the most recent news results on the subject. This is by no means an exhaustive list nor is it a condemnation of any particular products, it's here merely to raise awareness of what is happening with regard to the melamine in milk scandal.
Just for the record, this is not, as was suggested on a couple of blogs linking here, a definitive, complete list. I will update it as and when new information comes to light. Check out the previous posts for more information in the background to this news story and for further discussion on the issues surrounding the melamine in milk products scandal: Melamine Scandal Widens and (2008-09-29) Milky Melamine.
http://www.wisegeek.com/what-is-melamine.htm
What is Melamine?

Melamine is an organic compound that is often combined with formaldehyde to produce melamine resin, a synthetic polymer which is fire resistant and heat tolerant. Melamine resin is a very versatile material with a highly stable structure. Uses for melamine include whiteboards, floor tiles, kitchenware, fire retardant fabrics, and commercial filters. Melamine can be easily molded while warm, but will set into a fixed form. This property makes it ideally suited to certain industrial applications.
Melamine resin is manufactured by mixing urea with formaldehyde under heat and pressure. The substances begin to polymerize and are forced into a mold which will create the desired shape. Under pressure, melamine releases water, which could make the plastic unstable if it is not removed. The materials finish polymerizing and create a finished product, melamine resin.
Melamine resin is known as a thermoset plastic, because the plastic is fixed after molding. If exposed to enough heat, melamine will melt. For this reason, melamine dishware should not be exposed to high temperatures like those in the oven and microwave. However, the plastic is able to withstand higher temperatures than other plastics. Because it is a thermoset plastic, melamine resin is difficult to recycle.
Melamine can be made into a foam product. Melamine foam has a distinctive structure composed of stacked bubble shapes, which are extremely hard and therefore can easily clean a wide variety of substances. Melamine foam is marketed under a variety of commercial names including Magic Eraser, a cleaning tool well known for removing scuffs and dirt from a wide range of surfaces.
Melamine resin is used in Formica and similar construction products made from composite materials. Formica is made using melamine resin, which is used to coat the fibers in the upper layer of the construction product. The melamine resin makes the end result heat resistant, so that hot objects can be set on the counter without concern. The surface of the material is designed to be easily wiped and cleaned, creating a long lived household product.
Melamine also plays a role in a wide range of flame resistant materials. These include textiles used in upholstery and the uniforms worn by firemen. Thermal liners, heat resistant gloves, and aprons to protect from splashback of hot substances are made using melamine. Melamine will protect a wearer from heat hazards, and will help to resist the spread of fire in aircraft and buses by providing a fire blocker.
Melamine is also used in the manufacture of some filters. The material is porous and will admit substances to pass through, but can be used to filter out particles of a particular size. Melamine filters are capable of handling a high capacity and can be used in hot environments due to the heat resistance of melamine. Melamine filters are also extremely efficient.
Aside from common commercial uses, melamine became a topic of much discussion in early 2007, when veterinary scientists determined it to be the cause of hundreds of pet deaths, because of pet food contamination. Prior to these reports, melamine had been regarded as non-toxic or minimally toxic. However, because of the unexplained presence of melamine in wheat gluten added to mass-produced dog and cat foods, it is the most likely cause. Pet owners report symptoms that are commonly associated with renal failure, which could be explained by the ammonia that may result from the digestion of the melamine.