Been hearing this myth a lot lately.  Not really sure why - I think some blogger recently brought it up for some reason.  The most recent round of this myth seems to have been triggered from an entry on - I kid you not - blogger.com.  Here's the graph which is supposed to show that James Hansen's 1988 predictions were grossly inaccurate:
Damning evidence!
But shockingly, there's a significant flaw with this blogger.com analysis and graph.  The GISS data plotted is land-ocean data.  This is a combination of surface air temperature measurements over land from meteorological stations, and ocean temperature measurements from satellites.
Hansen's projection was based on global mean surface air temperature anomaly (as you can see in the original 1988 paper) - in other words the average temperature of the air at the Earth's surface.  But oceans are colder than the air above them.  We can't just use the meteorological station data though, because air over land is warmer than air over oceans.  So an accurate analysis would compare something in between land-ocean and met station data.
Gavin Schmidt, climate modeler at NASA GISS and RealClimate blogger has analyzed the projections by comparing them to both datasets: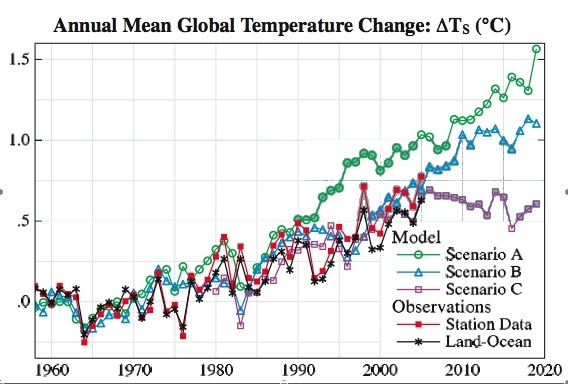 As is clear from this analysis, Hansen's Scenarios B and C have been very close to the two datasets.  And as Schmidt illustrates, the radiative forcing has also been very close to Scenario B.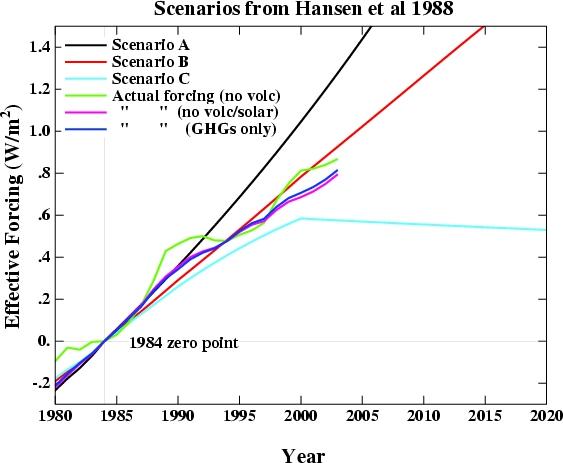 So really there's not much to this myth.  Even if the blogger graph were correct, it would just show that Hansen's warming prediction was a bit off.  But the reality is that the graph plots a dataset which does not correspond to Hansen's predictions.  Not surprisingly, the deniers don't accept this reality.